WE ARE OPEN (Yay!) BUT RAMONA IS STILL NOT FREE (unYay) :(
Our new hours are Wed-Sun 11-7 and we're accepting book donations to try and beef up our depleted stock after being closed for 3 months. If you have books to donate, bring 'em by during store hours, and if you're suffering terribly without your favoritest bookstore, come by and shop the new arrivals :)
Since Ramona is a furry little vector for disease, she won't be out on the sales floor for a while longer, but you can still get your Vitamin Ramona on VUBE!
Now presenting: Ramona and the Saga of the Sad Couch
It has long been documented that the couch in the Adventurers Club that once sat in the back of our old location is a saggy couch. We covered it with a fancy blanket for a while, but it was still so abundantly apparent that it was a saggy couch (oh no!)
But we loved our saggy couch. It had such good bones and we were like "How could we abandon saggy couch to the alley?" We simply could not! And yet, to reupholster saggy couch would be Far too much. So we took matters into our own two paws. Ramona reupholstered the couch.
Just kidding. Rachel, Tanner's wife, reupholstered the couch.
AND IT LOOKS SO GOOD!!!!!!!!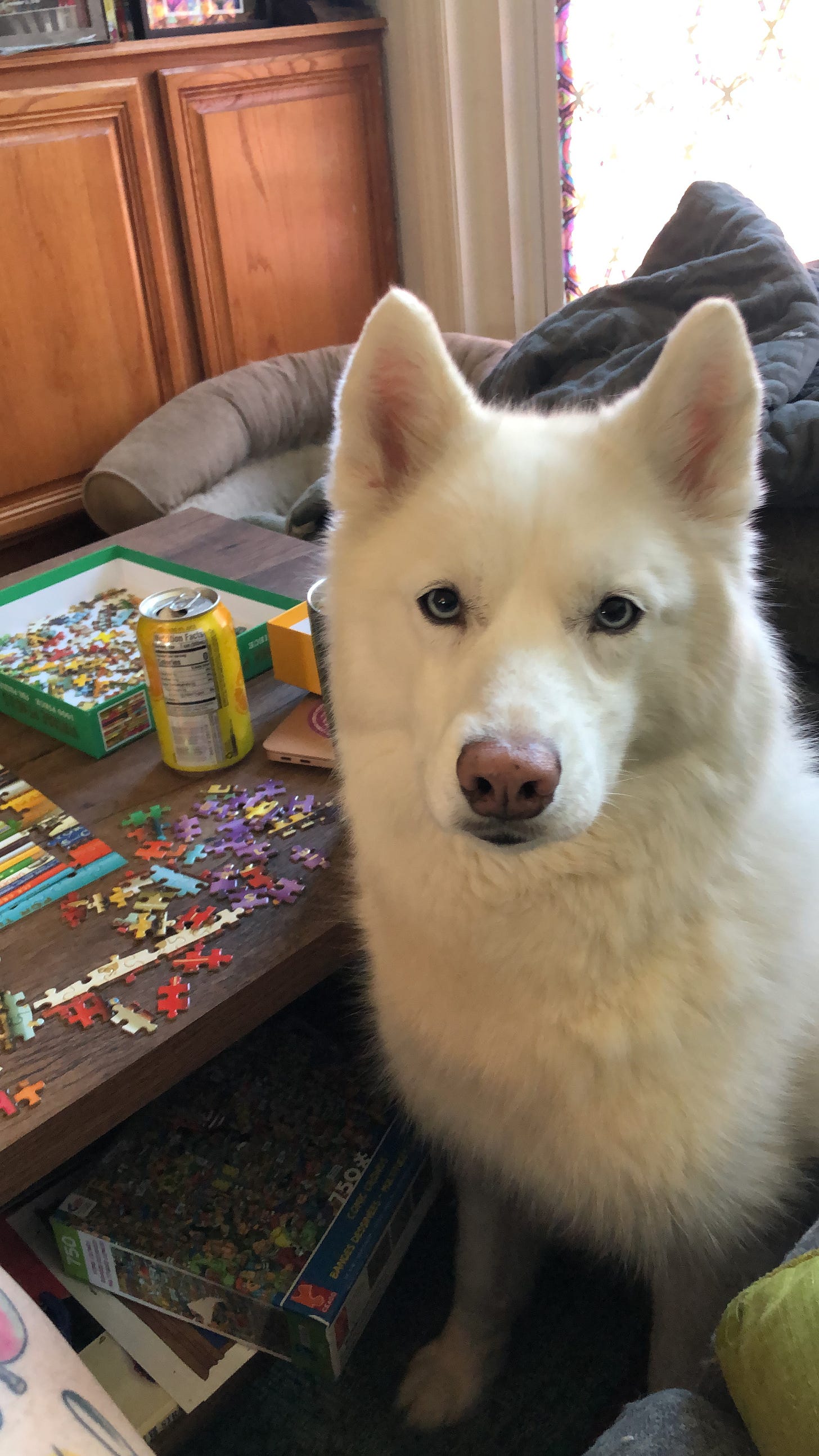 Ramona when u admit that u haven't read the book she recommended you.
This is me when I get home from work and I'm waiting for the air conditioning to really hit.
Happy day!!!
---
Thanks again for subscribing to VUBE, your support warms our hearts and helps ensure that we're able to keep our lights on and our employees paid. If you're jonesing for other ways to support Uncharted "Awesome" Books, check out our glorious selection of online offerings on our square site. In addition to the usual repertoire of alluring rare books listed on our website, you can now order new books from us and have them shipped straight to your house.
We also have what some decor & fashion experts are calling "extremely good merch," gift cards, mystery bags, and the option to shop virtually! All very cool!